Weightloss
This Viral TikToker Helped Me Lose 10 Pounds For My High School Reunion
Your 20-year high school reunion is a little different when you're single, childless, and one of the few people you know who left your hometown. Sure, I could have skipped it, but I have an odd sense of loyalty to the reunion, since my late dad was on his planning committee throughout my childhood. So, without a major life update, I thought about the impression I wanted to make on my classmates. I figured I'd focus on self-care and trying to feel good about myself. I decided to do a little wellness challenge inspired by my social media habits. I do my best work when there is a deadline (See my experiments with Whole30 a few years ago).
I fell into a TikTok bug a few months ago, which led me to John Schaefer, who is MNMLHealth. With 815,000 followers and over 4.7 million likes, Schaefer is clearly a big shot. He got an early start — his parents encouraged him to exercise when he was 12 because his classmates called him Skull.Earning his first personal training certificate at the age of 16, he has worked with thousands of clients since 2005, from Sports Illustrated From swimsuit models to stay-at-home moms and dads.
Schaefer's videos are concise and his approach seems like something I can really stick with. It focuses on five key steps:
More from Delish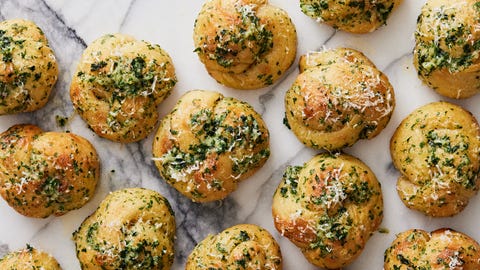 Intermittent fasting for at least 16 hours a day.
Drink 80 ounces of water daily.
Walk at least 10,000 steps per day.
Do at least two subjectively heavy strength training sessions per week.
Maintain a diet below calorie restriction while consistently meeting protein goals
What really appeals to me about this philosophy is that I idea I'm already doing at least three of these things. I've been doing intermittent fasting for a few years, simply because I'm often not hungry in the morning. I bought a spinning bike during the pandemic and regularly do strength training sessions on the app. I've walked everywhere since I lived in Brooklyn, so I must be walking that many steps on a regular basis.
With the reunion still a month and a half away, I think it's too close to really make an impact. But I throw caution to the wind, DM'd Schaefer. I explained my madness and what I wanted to accomplish, and prayed. Fortunately, he gave it his all.
getting Started
Schaefer and I hopped on a Zoom call to discuss the project. Because I've been obsessively watching his videos for months, it's like meeting a celebrity. He couldn't have been better: he was down to earth and eager to help me.
I told him I wanted to adopt the principles of his program and see where they took me in a month and a half. Oh, and did I mention that the biggest eating holiday of the year is just around the corner, plus cookie season, plus I work at Delish where I'm constantly surrounded by tempting treats? He laughed at how many obvious obstacles there were, yet was willing to help me with each one.
"Nutrition is governed by the law of averages," Schaefer said. "Knowing this allows for a broader picture of what fat loss actually looks like, which creates a lot of nutritional flexibility."
The first step is to determine my daily calorie limit by calculating my goal weight and multiplying it by 12. This gives me the daily number of calories I need to stay in a "calorie deficit" which is a nutrition TikTok video buzzword. I did track calories before, either through Weight Watchers or myself, but I never had a number Unrestricted. This method seems to fit perfectly with my usual eating habits.
Next we need to calculate my daily protein goal. This is your goal weight multiplied by 0.6. I've never paid attention to my protein intake, so this is the part of the challenge I'm most excited about. Why focus on protein? "A moderate amount of protein and strength training over time are the best ways to build muscle," says Schafer. "The more muscle tissue you have, the more calories you burn throughout the day."
After working out my numbers, I bought the most ridiculously large water bottle I could find and committed to fasting and weight training. Shaefer set me up on MNML's platform, which has video workouts, recipes, and an accountability community. Schaefer even appointed himself as my accountability coach to make sure I stayed on track. He had me take a photo of everything I ate with a screenshot of the calories. I also purchased a scale, tub of protein powder and Daily Harvest smoothies to get started.
Week 1 – Week 2
For the first two weeks, my diet consisted mostly of eggs, chicken breast and Premier Protein Cookies & Cream Shakes. Photos of the meals I sent Schaefer also included Cobb salad with chicken, birria tacos, scrambled eggs with Greek yogurt, tomatoes, sausage and spinach with Dave's Killer Bread, and Trader Joe's cauliflower gnocchi with chicken and spinach.
While staying under my calorie limit was fairly easy, hitting my protein goals was a lot harder than I thought. Shakes have become essential, but protein powder scares me because the scoop that comes with it looks huge. I sent Schaefer a picture of it and he said it looked like a recycling bin. It's kind of weird that the powders make Daily Harvest smoothies extra frothy, but they let me hit my protein goals, so that's a win.
I lug my big teal water bottle everywhere I go. My boss told me it was like I was walking around the office with a suitcase. I've always struggled to drink enough water, but this strategy has worked: The water bottles are too big and bulky to ignore.
For my first strength training session, I went to MNML Health's website and tried Schaefer's Total Bodyweight Workout. I do a ton of strength training through my cycling app, and Schaefer still blows my mind. The rest of the week, I alternate between Schaefer workouts and cycling.
Now it's 10,000 steps a day. I thought it would be much easier, but I didn't hit that goal during the first two weeks of workdays. Weekends are much easier because I spend a lot of time walking around town, but I hit the 5,000 cap in a week, which is awkward. Schaefer assures me not to be nervous and that my awareness of movement is the goal. In the first two weeks, I ended up losing four pounds. It's a small start, but it's what keeps me going!
Week 3 to Week 4
This was the most dangerous time of the challenge: I was at my mom's house in Kansas City the week before Thanksgiving. Nothing prepared me for all the risk factors that could make sticking to the plan harder:
I had to figure out a way to fit this huge water bottle into my carry-on.
After arriving in Kansas City and filling up with water, I learned to really appreciate the taste of New York water.
My mom loves treats and snacks, even more so when I'm visiting. While in theory the plan would allow me to eat whatever I wanted for dinner if I ate a good lunch, all of those snacks and treats added up (and often didn't help me hit my protein goals).
My hometown is not very pedestrian friendly. When I told my mom I wanted to walk to get a manicure, she was shocked and outraged.
Despite these hurdles, I managed to stay on track in terms of calories and protein, and Schaefer carried words of encouragement every step of the way. I sent him photos of dishes like taco soup, BBQ beef sandwich, Cobb salad, Chili's queso burger, and beef stroganoff.
When Schaefer and I discussed my Thanksgiving plans, he insisted that I had a great time. He gave me some great advice on how to have a good time without going completely off track: "Fitness and nutrition are about improving your life, not being your life. To be sustainable, people and friends It's so important to enjoy time with your family and not stress or feel guilty about food while doing so," he said. "When preparing for a big weekend, event, or vacation, create a massive calorie deficit before the event, drink plenty of water and pair one of every alcoholic beverage, and finally, attend as many events as you can."
So enjoy what I do – our feast includes traditional turkey, pies, and even some delicious recipes like Cranberry Whipped Feta and Cream Cheese Mashed Potatoes.
On Thanksgiving morning, I took a Turkey Day-themed spinning class to make up for the fact that I definitely didn't walk 10,000 steps that day (or any other day of the trip). I probably average around 6,000 steps, which has to be a record for Kansas. I continued to alternate Schaefer's workouts (full body mix) and spin classes. I lost a measly pound, but considering it's Thanksgiving, I'd call it a win.
5th to 6th week
home run. I'm back in Brooklyn ready to give it my all before the reunion. I did a Zoom workout with Schaefer and we decided I was ready for heavier weights – a sign of progress! Most of my other workouts consist of 20- to 30-minute full-body classes and sustained 10-minute core classes. My weekday step count still hovers between 6,000 and 8,000, even though I set a personal record of 16,000 steps on a Saturday.
As for the food, I ate all of the salads filled with chicken and hard boiled eggs from Sweetgreen. I substituted my usual beef chili for turkey and was amazed at how much it lowered the calories while retaining the protein.I did it Savory Steak Grain Bowl Recipe, it has a whopping 43 grams of protein and lasted me for five days. I eat the same frittata (with soy sausage, spinach, and tomatoes) for lunch almost every day. I lug my water bottle around the office, a Broadway show, a movie, and finally back in Kansas City for the big event.
The day of my reunion has arrived. I stepped on the scale. It showed that I lost 10 lbs from where I started!
I look back on the past month and a half and find myself feeling stronger, more alive, and never really feeling deprived. Schaefer is right – it's really more about letting people know what I'm eating, what I'm drinking and how much I'm moving. These are definitely the easiest nutrition and exercise guidelines I have ever followed and I will stick to them.
I am proud of myself. Armed with newfound confidence, I donned a sparkly tank top that barely showed my belly, walked into my party, and gracefully accepted compliments from my classmates about how I looked exactly the same in 20 years.
Director of Content Operations
Lindsey Ramsey is Director of Content Operations and oversees all of Delish's operations – content strategy, processes, timelines, contracts, invoicing and more. When she writes, she covers pop culture, travel and nutrition trends in the food world. She brings over 15 years of writing, editing and editorial management expertise to the brand, and her work has also been featured in House Beautiful, Cosmopolitan, Good Housekeeping, Esquire, Budget Travel and more. She loves chicken parm more than anyone on the planet.